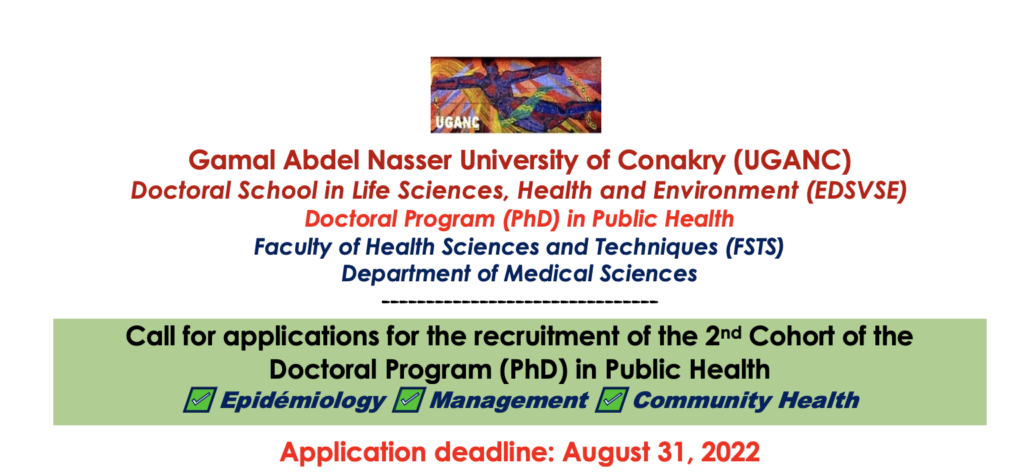 Objectives of the Program: The UGANC Doctor of Public Health (PhD) Program is designed to train experts with a comprehensive view of Public Health and the in-depth skills to become independent researchers and qualified faculty and practitioners.
Eligibility :
Be of Guinean nationality or from a sub-Saharan African country (especially West Africa)
Have a Master's degree (Research) in Public Health or equivalent
Have a research project and provide proof of funding for fieldwork
At least one (1) year of professional and research experience
Have a good command of French and/or English (working languages)
Duration of the course: Three (3) years full-time or five (5) years part-time (180 credits)
Title and grade: Doctorate (PhD), with mention of « Public Health » and specialization
Location and organization of the courses:
Gamal Abdel Nasser University of Conakry (Guinea): annual gathering (January to February) for the compulsory teaching units and English/French courses
Distance Learning and follow-up activities
Doctoral research in the laboratory or institution of affiliation
Director of the Doctoral School (EDSVSE): Prof. Biro DIALLO
Program Committee
Program Director: Dr. Alexandre DELAMOU (MD, MPH, PhD), Associate Professor
Deputy Director: Dr Abdoulaye TOURE (PharmD, MPH, PhD), Associate Professor
Pedagogical Director: Dr Alioune CAMARA (MD, MPH, PhD), Associate Professor
Members: Pr Adama FAYE (UCAD, Senegal), Pr Mamadou Kabirou BAH (CERE), Dr Timothée GUILAVOGUI (UGAN), Dr Sidikiba SIDIBE (UGAN)
Program admission requirements
Application and grant request form (

Download here

)
Scholarship Application form (

Download here

)
Letter of acceptance from the thesis director (UGANC)
Letter of acceptance in a laboratory/institution
Proof of funding for fieldwork
Academic file
Dual-registration: Double registration in Guinea and another University are accepted
Scholarships
The CEA-PCMT offers scholarships for theses on communicable diseases (registration fees, teaching fees, monthly living expenses, annual travel).
Selection is based on academic merit, quality of the thesis proposal and gender.
Applicants may apply for grants from other institutions or organizations.
Contact: phduganc@cea-pcmt.org